Data last updated: Tuesday 5th October 2021
Key headlines from the latest update:
Banking sector
Lloyds' market share continues to fall with a drop of 2.8% in Q3
Barclays growth of 6.6% moves the brand closer to fighting Lloyds for top spot
Starling's search presence has grown by 66% over the past 12 months
Insurance sector
Aviva has overtaken Admiral to claim top spot in the insurance online search market
LV has seen sustained annual growth of 89% to maintain its hold on position three in the market
Investments sector
JP Morgan continues to improve its lead at the top of the search market with growth of 11% this quarter
Second-placed BlackRock strengthens its position with growth of 15% this quarter
M&G has seen exceptional growth of over 400% over the past 12 months enabling it to climb into the top five domains
Workplace pensions sector
NOW:Pensions has fought off stiff competition from Smart Pension to claim third place with 20% growth this quarter
Share of search in Q3 2021
Banking sector
The UK banking search market continues to be led by Lloyds, albeit with a declining search market share. A 2.8% search traffic decrease in Q3 combined with a 6.6% increase from second-placed Barclays sees Lloyds lead cut to the lowest it has been since mid-2020.
Further down the table, NatWest briefly moved into and back out of the top-four positions and currently occupies position five ahead of the next nearest competitor, Nationwide, sitting some way behind in position six.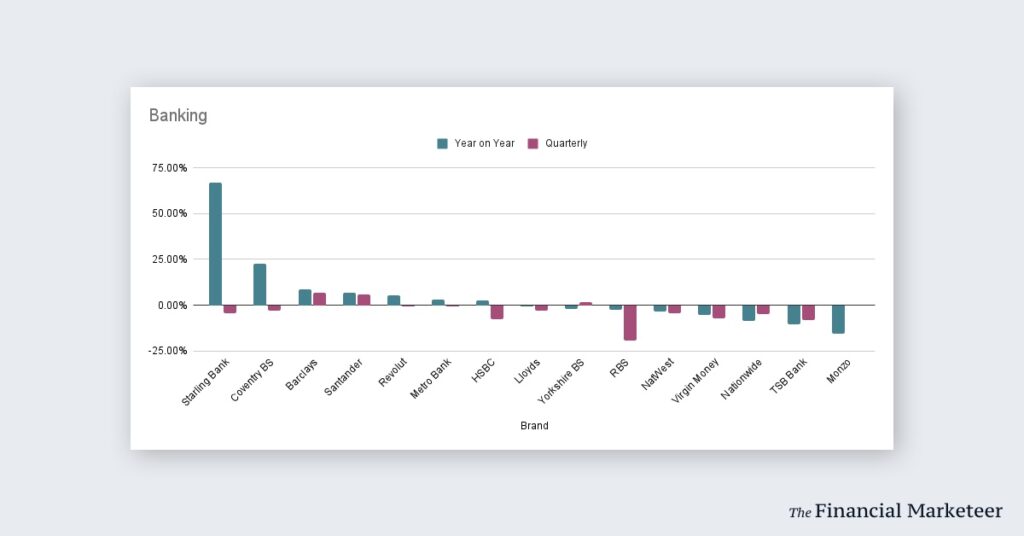 When looking at year on year performance, the clear winner is Starling Bank, a challenger brand. Occupying position 12 in the overall rankings, Starling has experienced an annual share of search growth of 66%, although the most recent quarter has seen the brand's growth slow a little with an overall decline of 4.5%
Less fortunate over the past year is fellow challenger bank, Monzo which has suffered a drop in share of search of 15%.
Coventry Building Society, currently placed 15th overall has experienced 22.6% growth over the course of the past year however, has also had a quarterly decline of 3.2%.
Insurance sector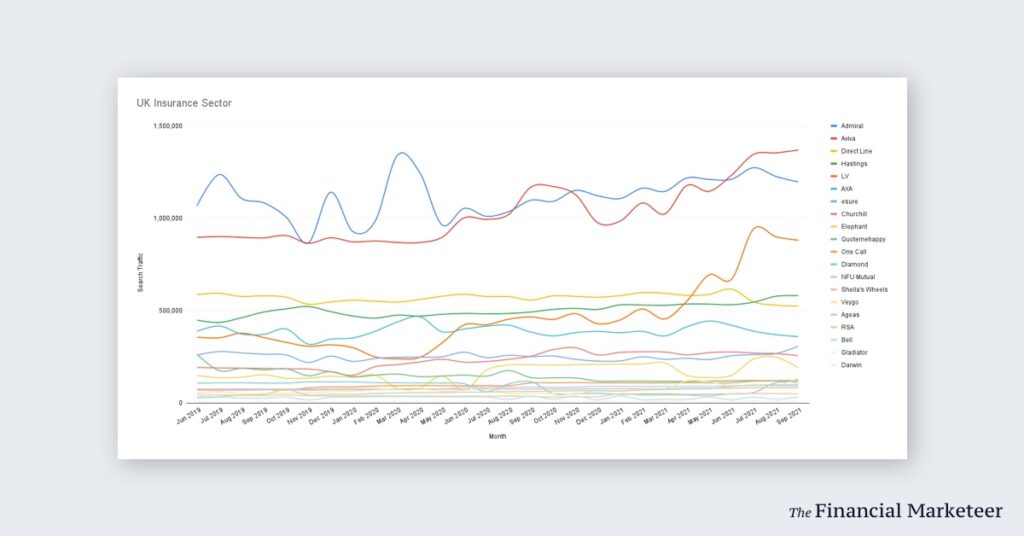 Aviva has captured position one in the UK insurance sector in Q3. Overtaking the now second-placed Admiral, Aviva experienced growth of 14% over the most recent quarter. Recent success confirms sustained growth for the brand which has experienced a growth of 17% over the past 12 months.
It was a successful quarter for third-placed LV, doubling down on recent growth with quarterly growth of 42%. It has been a successful 12 months for the brand which has grown by 89% over the past year.
It was also a successful quarter for Hastings which overtook Direct Line to claim position four.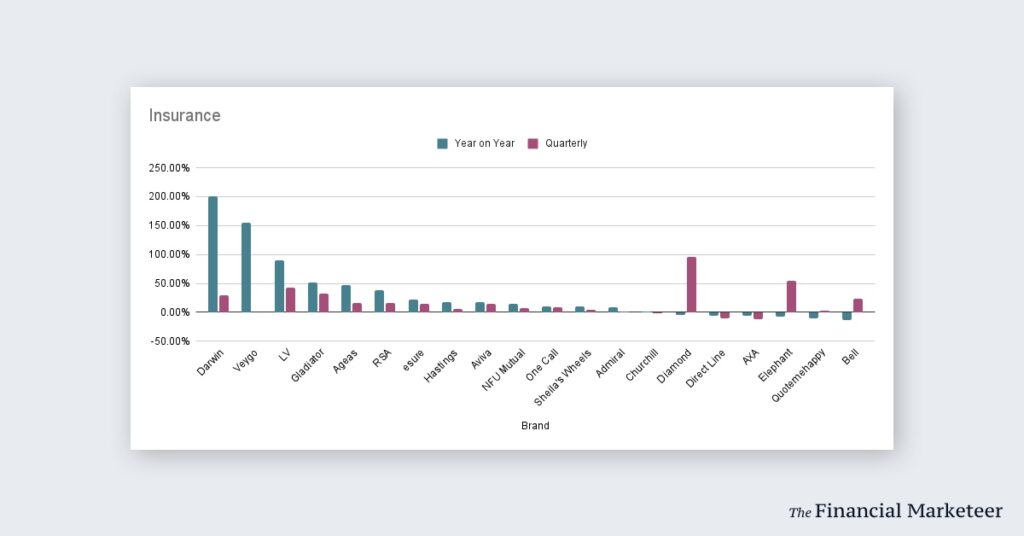 Besides an ultra-successful period for LV, both Darwin and Veygo have experienced sustained growth over the past 12 months with Veygo growing by 155% and Darwin growing by over 200%.
Investments sector
JP Morgan has continued its growth in Q3 with share of search improving by 11% with year on year growth of almost 15%.
Second-placed BlackRock also had a successful Q3, growing by 15%.
Further down the list, M&G has maintained its hold on fifth place in the market, growing by 30% this quarter and maintaining an impressive growth of over 400% since last September. Sixth-placed Aberdeen Standard had a poor quarter, dropping by almost 10% and suffering a 23% drop since last year.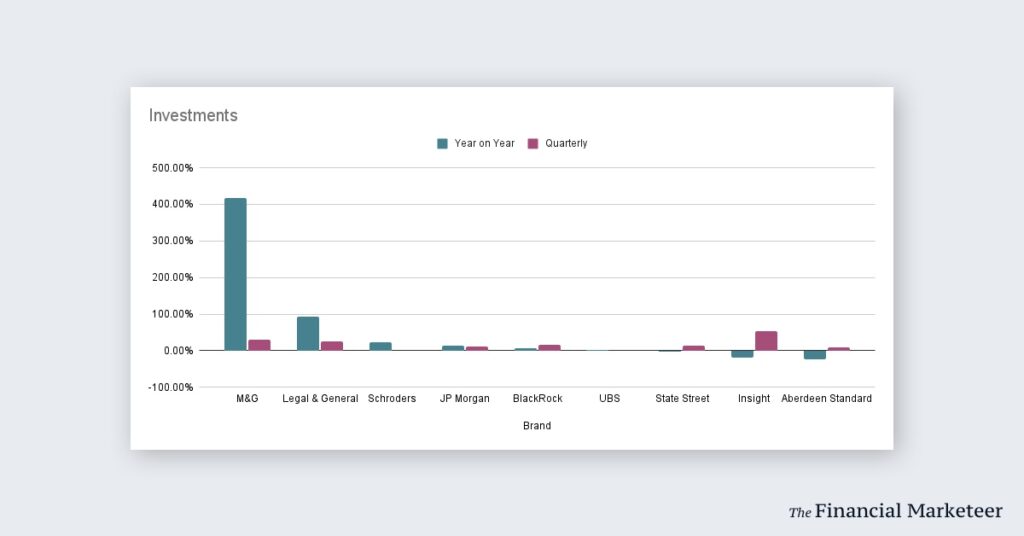 Workplace pensions sector
Nest Pensions, despite a blip in Q3 continues its growth with an overall growth of 18% compared with September last year.
Second-placed The People's Pension remained effectively unchanged in Q3 whilst the battle for third place (some way behind the top two) changed hands between NOW: Pensions and Smart Pension.
NOW has emerged as the victor, growing by almost 20% in Q3, however strong growth by Smart Pension over the past year of 18% means it's not far behind.
On the annual growth front, the clear winner is Workers Pension Trust, growing by 128% since last year. Despite this, the brand sits fifth out of the seven brands currently tracked.
The data shown here comes from SEMrush which tracks brand performance across Google's UK search engine.