Lloyds Banking Group remained the largest mortgage lender in 2019 based on gross lending, increasing its market share by 1.4% last year. Meanwhile, Nationwide BS moved into the top spot in the buy-to-let market, increasing its market share by 4.5% in 2019.
The data, published by UK Finance looks at the mortgage market for individuals and buy-to-let purchasers among its member organisations. The report only covers the market throughout 2019, so doesn't take into account any impact from the COVID-19 pandemic.
The mortgage market overall
Banks and specialist lenders grew their share of the lending market in 2019; banks increased their lending by £2.7bn whilst specialist lenders increased lending by £1.1bn.
Building societies and mid-tier lenders decreased their lending by £1.1bn and £0.8bn respectively in 2019.
UK Finance said, "[the data] shows that the largest UK banks have shown strong annual growth, with specialist lenders performing well in the buy-to-let sector and stable growth in the full market.
"One of the possible explanations for this growth in the large banks could be a decline in lending from direct competitors, coinciding with the introduction of ring-fencing at the start of 2019."
Ring-fencing concerns new rules introduced at the start of 2019 that means UK banks are required to keep retail banking separate from the rest of its banking activity, such as investments.
Market share for UK banks
Despite strong growth in 2019, the overall market share for the large UK banks still sits some way below its position in 2009:
Market share by gross lending
Lloyds Banking Group stayed at the top of the pile in 2019, further protecting its position by increasing its market share. Despite losing market share, Nationwide BS held onto second place, despite growth from third place NatWest Group.
Despite changes in overall market share, none of the lenders in the top-ten for individual lending changed position in 2019.
In the buy-to-let market, Nationwide BS had impressive growth, seeing it move from position two into first place. Lloyds Banking Group lost share of the buy-to-let market on its way to making way for Nationwide BS at the top of the pile.
Other movements in the top ten include NatWest jumping from position nine in 2018 to position seven in 2019. Virgin Money Plc and Paragon Banking Group both dropped one place.
Despite changes to market share, no lenders dropped out of the top ten when comparing 2018 to 2019.
The biggest winners
It was a close race in 2019 in the individual mortgage lending market. Lloyds Banking Group, NatWest Group, Santander UK and Barclays all achieved growth above 0.5%.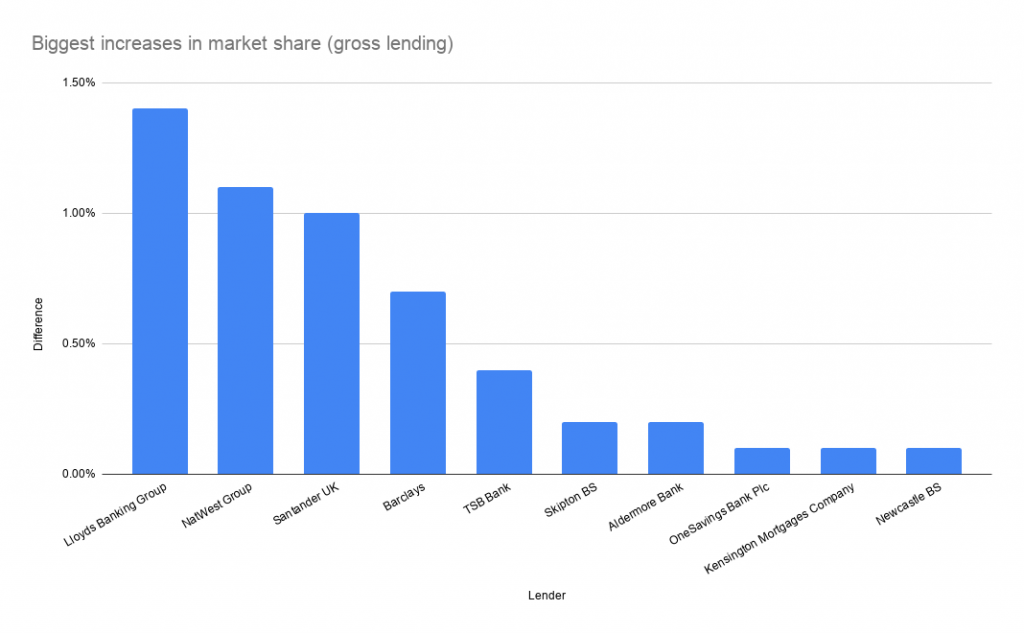 There was a clear winner in the buy-to-let lending market in 2019 with Nationwide BS stealing a march on the competition, adding an impressive 4.5% to its market share.
Biggest losers
As it was at the top of the list, four brands lost out more than most. Virgin Money Plc, Nationwide BS, Metro Bank and HSBC Bank all lost at least 0.5% market share in 2019.
Coventry BS was the big loser in the buy-to-let lending market, dropping over 2% market share despite clinging onto position five in the market.